A Prayer for Park Slope
A Prayer for Park Slope
12/22/2017
The prayer deposit box outside Grace United Methodist Church in Park Slope, Brooklyn, serves as an anonymous help line for residents of a changing neighborhood. Jonathan Cortizo.
A prayer request box on the streets outside Brooklyn's Grace United Methodist Church is an effort by a shrinking congregation to serve its changing neighborhood.

The request was simple.
"Please pray to help me stay sober," read the note, scribbled in black pen on a page torn from a notebook. "Pray that my young children can have a healthy, sober mom."
Like many other requests that end up in the prayer deposit box outside Grace United Methodist Church in Park Slope, Brooklyn, it was anonymous. There are few clues as to who wrote it or what type of person they are. But that doesn't matter: Whoever the author or whatever the ask, Rev. HyoungDock Yoo, the church's pastor, treats each one the same. Once a day, he checks the box next to the church steps and carries the prayers of New Yorkers—believers and atheists alike—to the altar of the 160-year-old building. There, he petitions God on their behalf for miraculous intervention.
Yoo's prayer deposit box provides a window into the secret hopes and despairs of those who walk past the church, which is nestled between a Chipotle on one block and a cash-only hair salon on another in a neighborhood that's seen dramatic shifts in recent decades. Park Slope's Latino and black population has been largely pushed out, and the mostly white and affluent newcomers have less time for churchgoing. Grace United is a shrinking church with an aging congregation; its prayer box helps keep it connected to the changing neighborhood outside.
"When I open the box and find a prayer, I feel like I find a treasure," said Yoo. "There is a sincere desire and request and a sacred bond they place in my hand."
Yoo, 61, installed the box when he moved from Connecticut to Park Slope to lead the church six years ago. It is a typical mailbox with a red flag and a sign inviting passersby to deposit their prayers. About three or four people a week take Yoo up on his offer. There is always an uptick around the holiday season, he said.
Many requests hint that the writer is on the ropes of life, beaten down by addiction, financial stress, or sickness. Several others asked for a husband or a baby or both. "Help me get my Ph.D," read one recent request, written on a torn-up Indian carry-out menu, between descriptions of jasmine rice and vindaloo. Still another prayer spoke to the spontaneous nature of many requests: "Dear pastors, I just passed your church + felt the urge for a prayer request. I'm in serious need of work + pay my bills or rent." It was written on the back of a CVS receipt.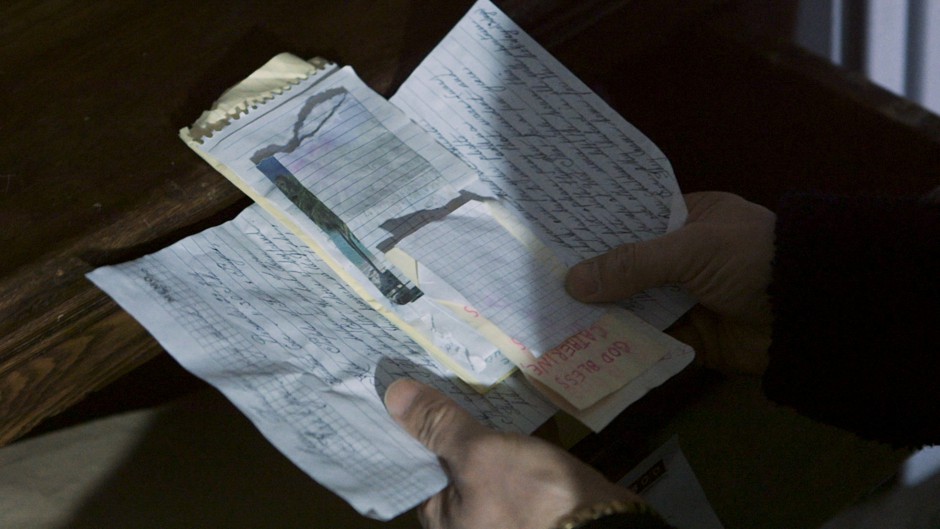 Rev. HyoungDock Yoo receives and answers anonymous prayer requests daily. (Jonathan Cortizo)
Sometimes, the prayers are topical. One mother was fearful the Trump presidency could endanger her son, who was serving in the military. A request, written on the back of a receipt for a $4.59 bottle of vodka, asked for prayer for an 18-year-old who died in a "Times Square massacre," likely referring to an incident in May when an allegedly drugged driver plowed into pedestrians, killing one and injuring 22 others.
"[Prayer] is a limited thing and small thing that I know I can do, but it can be the most important thing that I can do," said Yoo.
When it comes to requests for financial assistance, there's not much Yoo or Grace United can do other than offer emotional support (and put in a good word with God). The church has its own needs, about $2 million worth, to be specific. The small congregation has not kept up with the maintenance demands from its stunning-but-aging building. Sunday service now draws about 50 attendees. Some who used to live in the neighborhood can no longer afford the rent and travel more than an hour to get there. The church has not succeeded in attracting any of the area's more affluent new residents.
The need is so dire that Yoo is considering putting the parsonage, where he and his family live, on the market. Its estimate on Zillow is about $2 million.
Brooklyn boasts a vast number of ornate houses of worship, which earned it the nickname "City of Churches." Starting in the 1880s, prosperous and mostly European-American congregations built beautiful churches in places like Park Slope, which stood on the middle ground between city center and suburbs proper, says Nancy Ammerman, a sociology professor from Boston University who studies religion. After World War II, those residents moved out, creating a vacuum that a poorer demographic filled. Churches adapted to that new population.
Recent Brooklyn newcomers have been distinctly more affluent. A 2016 report from NYU's Furman Center that tracks the city's gentrification patterns declared Park Slope gentrified in the 1990s; since then since the neighborhood has only continued its upward spiral. Between 2000 and 2015, median household income in Park Slope rose from about $78,000 to $120,000. The share of residents with a bachelor's degree grew more than 20 points to 76 percent, and the number of white residents increased by 11 points to 67 percent.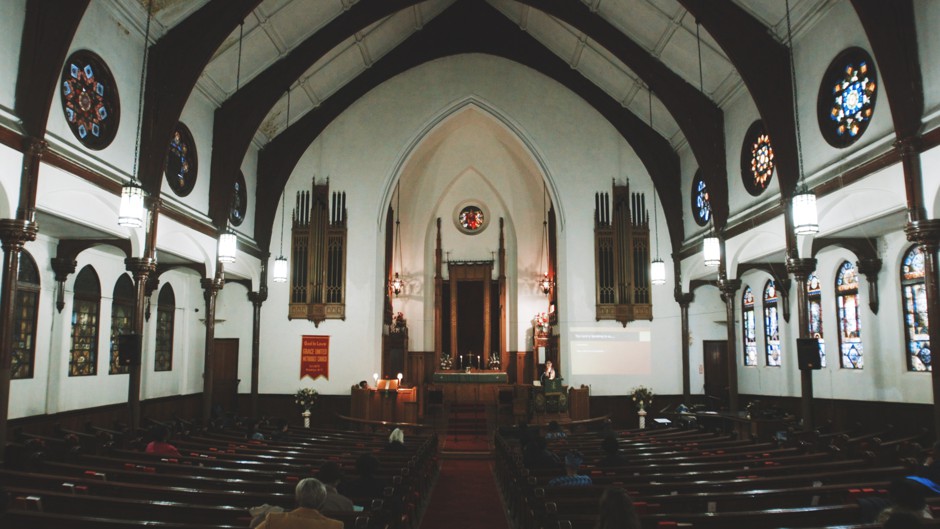 Grace United Methodist Church faces pressures that are familiar to inner-ring suburban congregations. (Jonathan Cortizo)
Martha Nadell, an associate professor from Brooklyn College who is working on a literary and visual history of the borough, points to a handful of churches that have been sold off, torn down, or reused as housing. "There is a real irony there where we think of churches as aesthetic objects," she said. "We pay less attention to their community and spiritual significance."
Many of these churches "are dealing with a double culture shock," said Ammerman. Not only must they accommodate the reversal of white flight, they must somehow connect with a generation considered to be one of America's least religious.
At Grace United Methodist Church, a shower ministry every Saturday provides a place for the homeless to wash. In the summer, it hosts a low-cost, non-religious summer camp for children. Alcoholics Anonymous and Narcotics Anonymous use the building for meetings. However, young people who have come to a Sunday service tend not to stay more than a few weeks, said Yoo. The prayer deposit box remains one of the most consistent, if gentle, ways that the church serves those who might walk by but never walk through its doors.
"All those precious writings and prayers, and all different people, if they can hear me," said Yoo, "I wish they would know that I'm thinking about them and their gift, and that's very satisfying for me."
About the Authors
Serena is a multimedia journalist based in New York City by way of Australia. Her work has appeared in publications such as The New York Times, BBC, and Vice.
Jonathan Cortizo is a Brooklyn-born director, producer and camera operator. He studied film production at Emerson College and lives in Park Slope with his wife and cat.
From: https://www.citylab.com/life/2017/12/how-a-prayer-deposit-box-serves-the-streets-of-brooklyn/548942/