Blessed be Their Ukrainian Ties
Blessed be Their Ukrainian Ties
3/24/2022
March 24, 2022 | UM News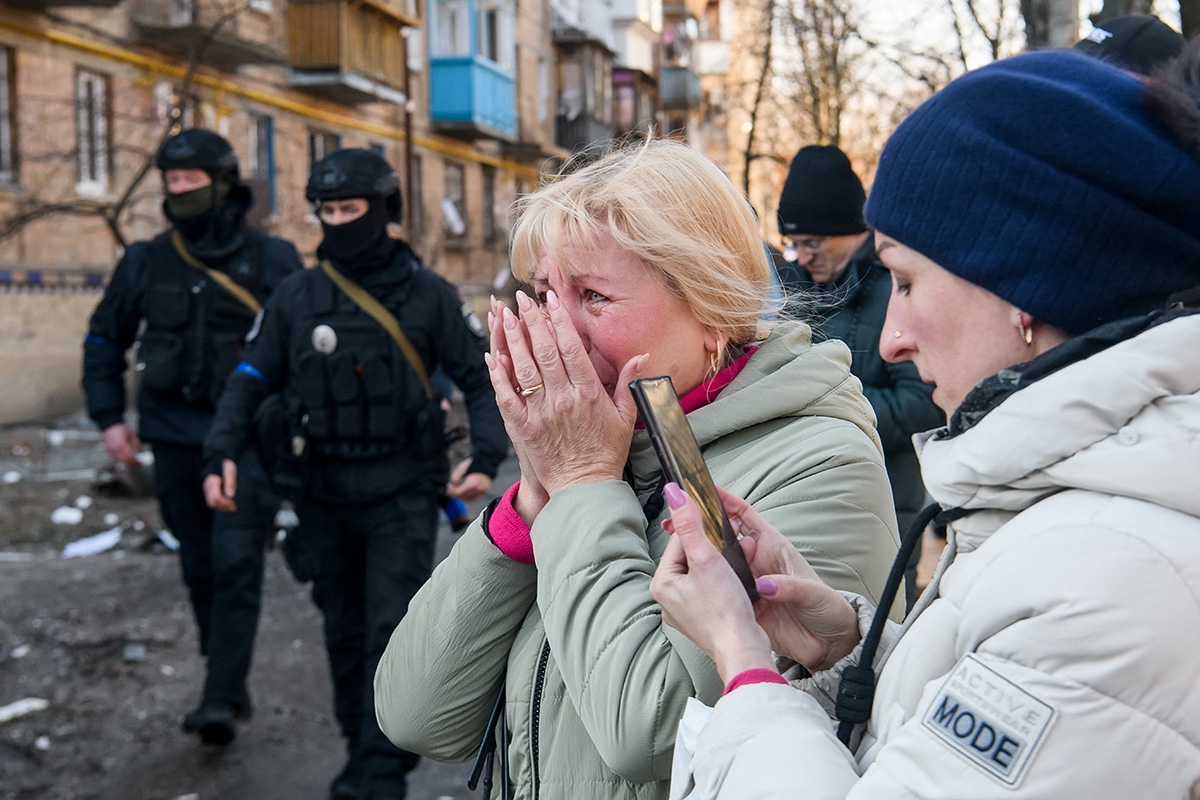 ---
Key points:
United Methodists with close ties to Ukraine include former missionaries to that country, as well as pastors with Ukrainian heritage, and local churches that have made mission trips to Ukraine.
These United Methodists have been especially affected by news of the Russian invasion of Ukraine.
They've also found creative ways to help Ukrainian friends and family members, and they've shared with The United Methodist Church their expertise in the region's complicated politics and history.
---
For United Methodists with close ties to Ukraine, the Russian invasion of that country is an ever-present, wrenching concern, keeping them tethered to news reports and social media, and costing them sleep.

It's also an occasion to try to help, however far they may be from the war itself.

The Rev. Lydia Istomina led her church, Francis Street First United Methodist in St. Joseph, Missouri, to host a March 13 "Stand Tall with Ukraine" community rally.


"I believe prayers are wonderful and very important, but it's not enough," Istomina said. "God gave us our brains and our hearts, so we have to act."

Istomina grew up in Russia and was a pioneering female United Methodist pastor there before coming to the U.S. in 1995.

But her first husband's father was Ukrainian. Thus, the two children Istomina had with her first husband are of Ukrainian ancestry, and they were baptized in Kyiv, Ukraine.

Distraught over the invasion, Istomina worked with church members to organize the community event on behalf of Ukraine. The St. Joseph mayor came, as did clergy and congregants from other local churches. The small sanctuary was packed, with more than a few people wearing yellow and blue, the Ukrainian colors.

Francis Street First already had committed $5,000 from its endowment for United Methodist relief work related to the invasion. The event raised another $2,385.

"People responded because it's really important," Istomina said. "You can't just watch the news."

The Rev. Fred Vanderwerf feels the same. He's a Minnesota Conference district superintendent, but from 2000 to 2008, he and his wife, Stacy, served as United Methodist missionaries in Lviv, Ukraine.

Their son Levi was a toddler there, and in his struggle with pronouns sometimes called the country "Mykraine" — a coinage Fred Vanderwerf has himself used lately in describing his love for the place of his missionary service.

He's still coming to terms with the invasion.

"I've really been glued to the news and I feel like that's not helping me," he said by phone last week. "I'm only getting more emotionally exhausted."


But soon after the invasion began, Vanderwerf found a constructive way to respond, drawing on his contacts and background to conduct extensive video interviews with Eurasian Area Bishop Eduard Khegay in Moscow and the Rev. Volodymyr Prokip, a United Methodist pastor in Lviv.

The interviews provide context and reflection from both clergymen (including the Russian Khegay's brave opposition to the invasion) and they've been an internet hit.

"I can't get a sermon to get more than 200 views. This has got like 8,000," said Vanderwerf, who added that he's had to have help from the Minnesota Conference staff to answer all the emails the videos have generated.

Since the invasion, the Rev. Michael Zdorow, pastor of The Gathering Place, a United Methodist Church in Palm Beach Gardens, Florida, has not needed an alarm clock.

"I wake up every day at 2:30 a.m.," he said. "That started right when this was happening."

Zdorow was born and brought up in the U.S., but his late father was Ukrainian, and the pastor himself has connected with the Ukrainian community wherever he's lived.

His wife, Zenie, was raised in Crimea, and her mother remains in that previously Ukrainian, now Russian-annexed peninsula.

From 2015 to 2019, Zdorow worked for the United Methodist Board of Global Ministries in Russia, but he had earlier stints doing mission work and studying in the region, and he has traveled throughout Ukraine.

"All these places you're seeing getting bombed and destroyed, I have friends and memories there," he said.

With Florida Conference Bishop Ken Carter, Zdorow has done a webinar addressing the geopolitical complexities of the conflict and sharing his family's history. Also, as Ukrainians began en masse to flee Russian shelling, he was in contact with some of his friends, helping them find a way out.

"My first week (of the invasion) was actually networking evacuation routes," he said.

The Revs. Bill Lovelace and Helen Byholt Lovelace are a married United Methodist couple in Evenskjer, Norway, where he works for Global Ministries and she is pastor for three area churches. But for nearly 10 years, they served as missionaries in Ukraine.

Bill Lovelace also was a pastor in Russia and has kept in close touch with Russian and Ukrainian friends caught up in the conflict.

"Most Ukrainians up until the day of the invasion, they would say, 'Bill, your media is just hyping this. Putin won't attack. We've had this low-level war for eight years; we're used to it,'" said Lovelace. "Everybody was pretty much in shock when he actually did attack."

The Lovelaces have donated to United Methodist relief efforts and they're preparing to help with the resettling of some 35,000 Ukrainian refugees expected in Norway.

"For Norway to take in 35,000 is pretty amazing, and the Norwegian (United Methodist) Church will be involved in that," Bill Lovelace said.

The Rev. John Calhoun served as a Global Ministries missionary in Kyiv from 2011 to 2015, and again from 2017 to 2022, in partnership with the United Methodist Church of Ukraine. He's currently the pastor of the English-speaking United Methodist Church of Vienna, Austria.

Calhoun said he's particularly concerned for African students who until recently had been part of the United Methodist ministry in Kyiv. Most came to Ukraine a decade ago to study medicine in Luhansk, in eastern Ukraine. But when Russia-backed separatists launched their offensive in the Donbas region in 2014, the students were driven out of the community and sought refuge in Kyiv.

"It has been heartbreaking to see these young friends displaced a second time due to the aggression of the Russian state, and now forced to flee the country," Calhoun said by email.

Calhoun's congregation has raised funds for a United Methodist church in Slovakia that has taken in refugees, and some of his congregation members have begun to take in refugees reaching Vienna.

"The church is preparing to open our sanctuary if more capacity is required," he said.

A church that feels a special kinship with Ukraine is Blacksburg United Methodist, in Blacksburg, Virginia. For nearly 20 years, the church has had an In Mission Together partnership with Spring of Life United Methodist Church in Kyiv, and with the Kyiv United Methodist Church Center.
That has meant hosting visiting Ukrainians, as well as sending multiple mission teams to Ukraine.

Dick Arnold, a longtime member of Blacksburg United Methodist and former consultant to Global Ministries, has made seven trips to Ukraine, and has recently joined other church members in using social media to follow the fates of friends there.

"We're constantly trying to find out about their safety and well-being, and we're constantly praying for them," he said.

Blacksburg United Methodist has designated funds for Ukrainian relief and is planning to create a website to share information about Ukraine with the Virginia Conference and others. If Ukrainian refugees arrive in Virginia, the church stands ready to help them resettle.

That's not all Blacksburg United Methodist has in the works, Arnold said.

"We're getting a Ukrainian flag."

Hodges is a Dallas-based writer for United Methodist News.