Churches Have Role in Overcoming Vaccine Hesitancy
Churches Have Role in Overcoming Vaccine Hesitancy
6/11/2021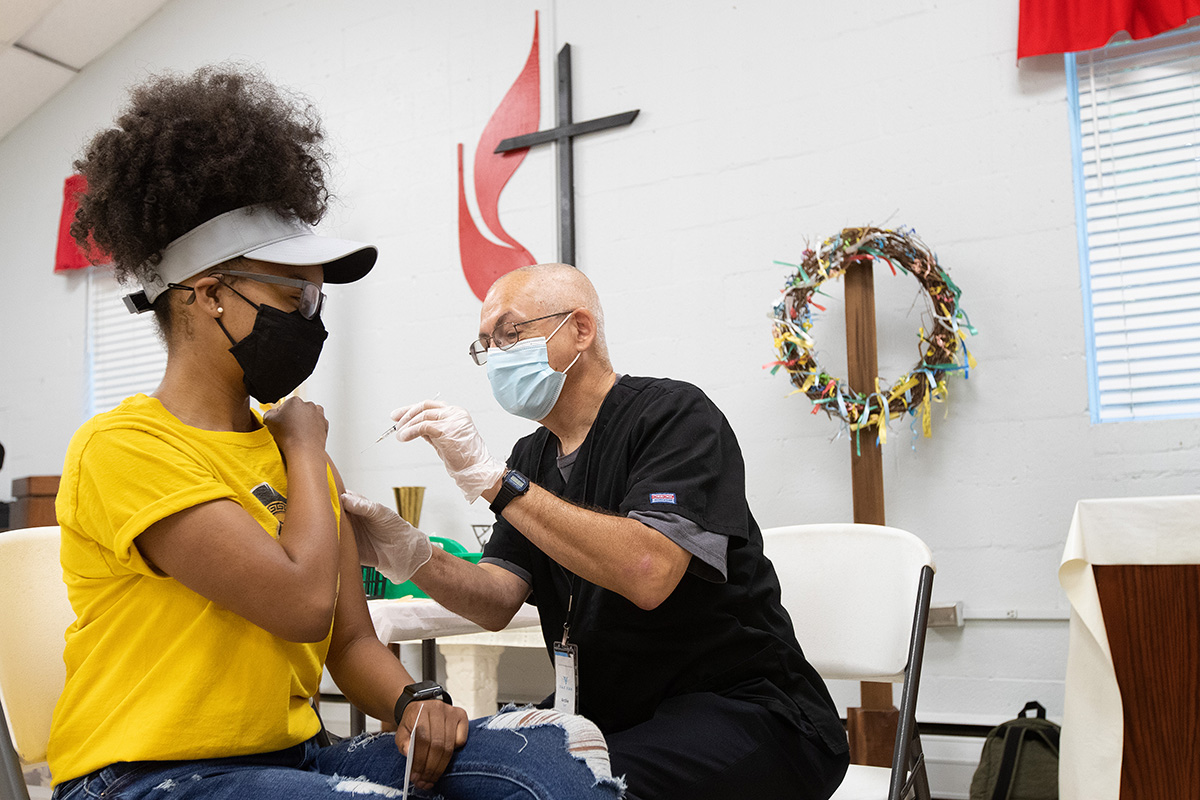 ---
By Joey Butler, photos by Mike DuBose
June 11, 2021 | UM News

Key points:

• People mistrustful of other institutions may still trust faith leaders to address their concerns about getting a COVID-19 vaccination.

• Sponsoring mobile vaccinations, hosting community discussions and sharing video testimonies of why members chose to be vaccinated are practical steps churches can take.
---
President Joe Biden has set a national goal of 70% of U.S. adults with at least one dose of the COVID-19 vaccine by July 4, and he's hoping that the faith community will help to achieve it.

Currently, 64% of the adult population has received the first dose of the vaccine. Biden declared a "national month of action" in the 30 days leading up to Independence Day and is looking to national and community organizations, including the religious community, to encourage vaccinations.

During a May 26 online summit hosted by Faiths4Vaccines, a national multifaith initiative, U.S. Surgeon General Vivek Murthy told attendees, "At a moment where people are casting about and wondering who they can lean on for information … they look to people they know, to people they trust," and that faith leaders have the trust of their communities. A concerning trend is that even though vaccines are much more widely available than a few months ago, vaccination rates have been declining. Much of that is due to individuals' medical mistrust and hesitancy to get the shot.

This is where churches can play an important role.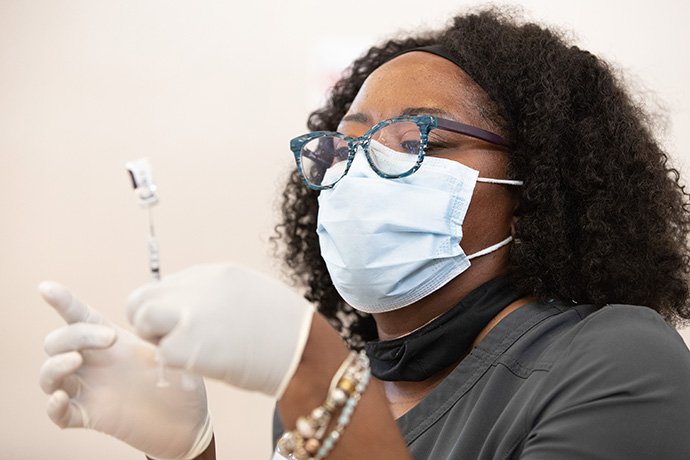 Tia Moore, a nurse practitioner, prepares a dose of COVID-19 vaccine during a vaccination clinic at Meharry Medical College in Nashville, Tenn., in March. The United Methodist-related school has served as a vaccination site since January and also operates a mobile vaccine clinic.
"The setting in which you get the vaccine matters because people want to be where they feel comfortable, and churches represent a place of comfort and security for a lot of people," said Dr. James E.K. Hildreth, president and chief executive officer of Meharry Medical College in Nashville, Tennessee. The historically Black medical school is supported by The Black College Fund of The United Methodist Church.

Meharry has served as a vaccination site since January and also operates a mobile vaccine clinic. "Being located in a predominantly African American neighborhood, medical mistrust is an issue," said Cat Nash, who serves as the clinical lead for vaccinations at the school. "Churches lend credibility, and clergy are a good way to reach out to patients."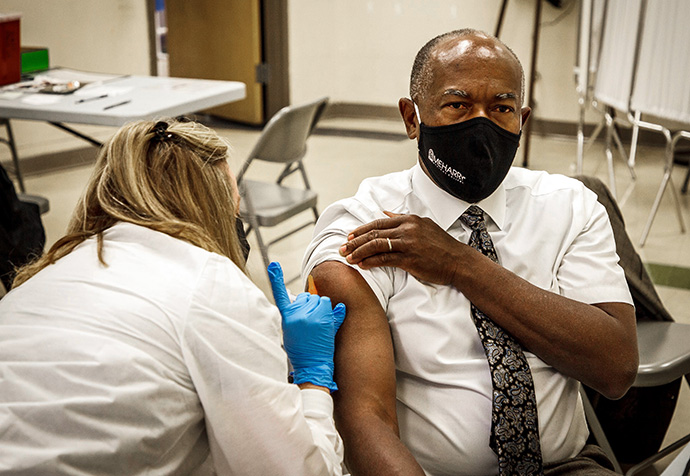 Dr. James Hildreth, president of Meharry Medical College in Nashville, Tenn., receives a COVID-19 vaccination at a city-run clinic in December 2020. Hildreth said in news reports at the time that he received the vaccine on camera in order to demonstrate his confidence in its safety. Photo courtesy of Meharry Medical College.
Hildreth agreed. "The most urgent need is for someone to get the attention of the people who are holding out, just to answer the questions," he said.

While acknowledging the concerns of those who are hesitant, Hildreth points out that more than 2 billion vaccines have been administered worldwide, "so no one's a 'guinea pig' any more. Adverse effects are extremely rare."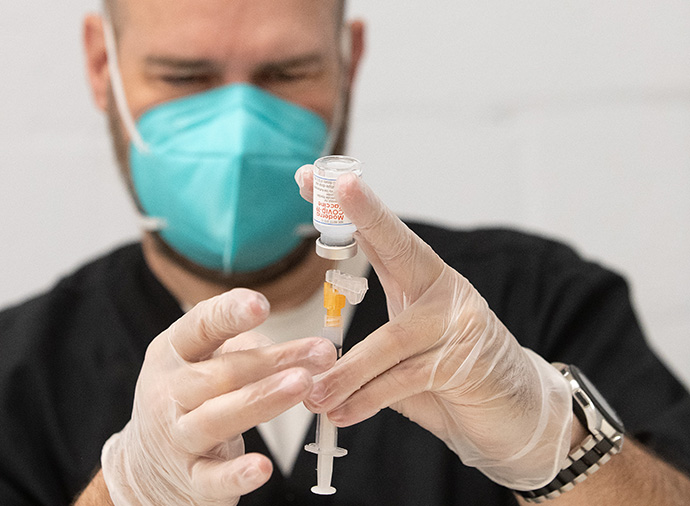 Carl Wood draws a dose of the Moderna COVID-19 vaccine during a clinic at St. Mark's United Methodist Church in Charlotte, N.C., in April. Wood said that faith leaders getting vaccinated themselves sets an example: "If church leadership takes their shots, someone can say, 'I can feel safe, too.'"
Churches that have been hosting vaccine clinics at their buildings may have to live by the motto of "meeting people where they are" by venturing into the community.

At its online summit, Faiths4Vaccines listed a number of practical ways churches can break down barriers and hesitancy and increase vaccine access.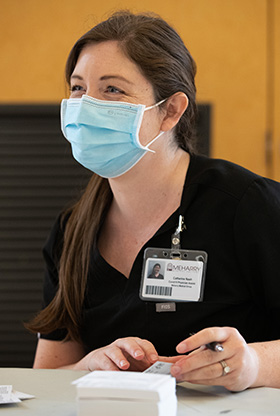 Cat Nash, a physician assistant, is the clinical lead for the COVID-19 vaccination clinic at Meharry Medical College in Nashville, Tenn. She is a member of Brentwood (Tenn.) United Methodist Church.
Some of the suggestions for churches include:

• Offering transportation to clinics or sponsoring mobile clinics to travel to underserved neighborhoods;

• Canvassing door to door in the church's community to share vaccine information;

• Hosting informational events and open conversations about the vaccine;

• Recording testimonials about why people chose to receive the vaccine and sharing them on social media.

One barrier that concerns Hildreth is the reality that a person's political views may drive their reasoning not to take the shot. The virus, he notes, "is agnostic to your political affiliation."

"Any persons who could effectively engage this group in that conversation, we need them to do so, and to do so soon," he said. "If we don't get that remaining 30 to 40% of people vaccinated and the virus is allowed to run through that group, there's still the danger of variants arising that the vaccines don't do much for."

Though vaccines are available to most everyone in wealthier countries, there is significant inequity in poorer nations — an issue Hildreth said the church should speak out on.

"The rich countries of the planet need to buy the vaccine and give it to the countries that can't afford it, because none of us are safe until all of us are safe," he said. "As a global population, we need everyone vaccinated."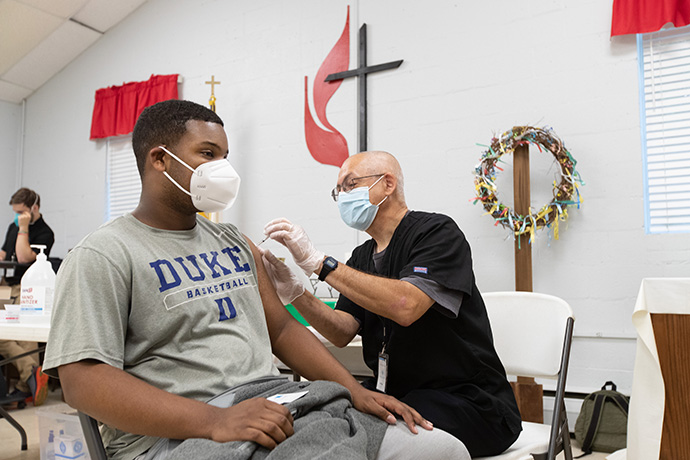 Walter Hand III receives a COVID-19 vaccination from EMT Archie Coble during a clinic at St. Mark's United Methodist Church in Charlotte, N.C., in April.
Butler is a multimedia producer/editor and DuBose is staff photographer for UM News. Contact them at (615) 742-5470 or newsdesk@umcom.org.