Congregations Eagerly Embrace VBS Opportunities
Congregations Eagerly Embrace VBS Opportunities
7/15/2021
By Barbara Dunlap-Berg | UM News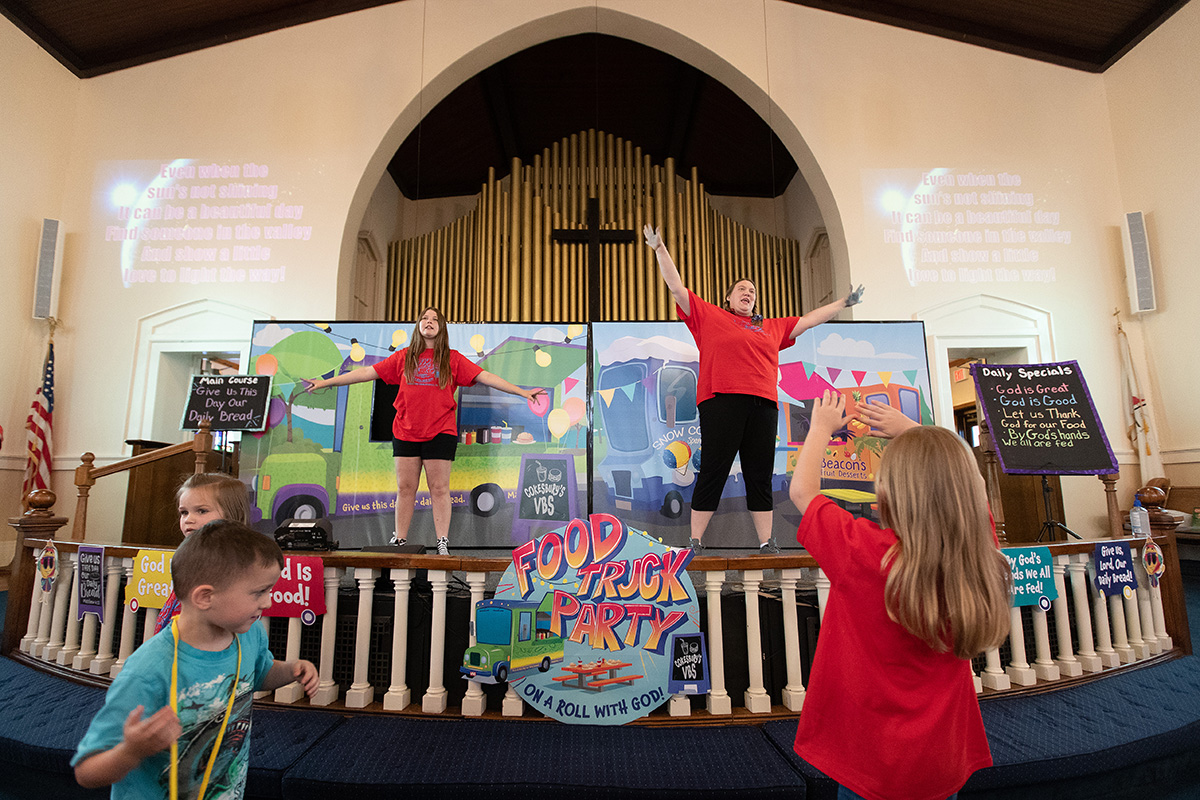 ---
Key points:

• Learning from 2020 experiences, many United Methodist churches reopen doors to community while others continue virtual classes for 2021.

• Many churches are opting for evening classes or all-outdoor events.
---
Vacation Bible school, a favorite summer staple for churches big and small, is back in 2021, and United Methodists are optimistic.

Last year, many congregations rose to the challenge of COVID-19, inventing creative ways to have alternative VBS experiences. They adapted existing curriculum, used special materials designed for virtual classes, invited no-contact participation in mission projects, offered Zoom classes via lesson-packet pickups or drive-in parking-lot "classrooms," and much more.

Unexpected blessings resulted. Just ask Laura McCoy, children's minister at Reynoldsburg United Methodist Church, near Columbus, Ohio. Last summer, online was the only option for the 1,000-member congregation — and it was a success.

"We are experiencing an uptick in our community registrations this year," McCoy said. "Currently, about 65% of our enrollment does not attend here regularly. That's pretty exciting."

She mentioned one family who moved to the area during the height of COVID-19 and discovered the church through its online ministry. They home-school and were looking for social interaction opportunities for their children.

"Mom reached out about our children's ministry, Sunday Zoom, and their family has been on nearly every Sunday for months," she said.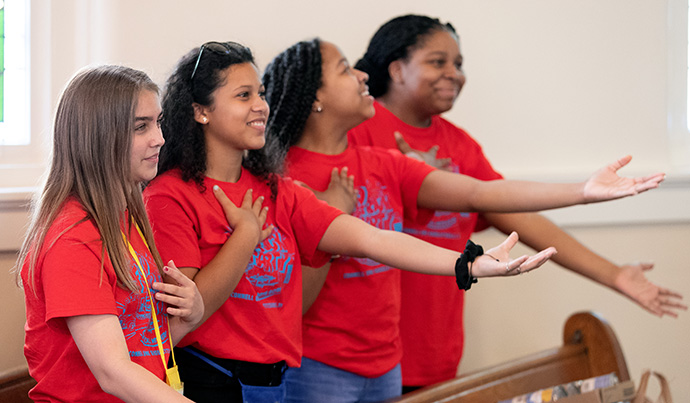 Counselors sing during vacation Bible school at Connell Memorial United Methodist Church. From left are: Emme Sinclair Krueger, Sanáa Carroll, Jayla Frazier and Jayde Frazier. Photo by Mike DuBose, UM News.
McCoy has been to their house to deliver Christmas/Lenten activities and other family projects, and their middle-school-age daughter recently attended her first in-person event, since it was outside.

Even though they've never been in the church building, "they are an active part of our ministry," she said.

In September 2020, Reynoldsburg United Methodist Church returned to in-person worship, with strict safety protocols in place. Still, McCoy noted, "we must stay engaged with our online community."

For vacation Bible school, the church will have in-person and online options, with a livestream of their opening/Bible story time, so that at-home families can engage with the "live" event. Participants will receive kits containing supplies for crafts and activities.

A churchwide survey determined the direction for 2021: its first-ever evening VBS.

"Evenings got us more servants who could help, and four nights versus five days was also a draw," McCoy said. "We will have fewer groups, and we are capping our numbers to keep those groups smaller."

Because of the later time, they will offer a free meal for leaders and families.

"We are excited for the new opportunities to reach our community," McCoy said.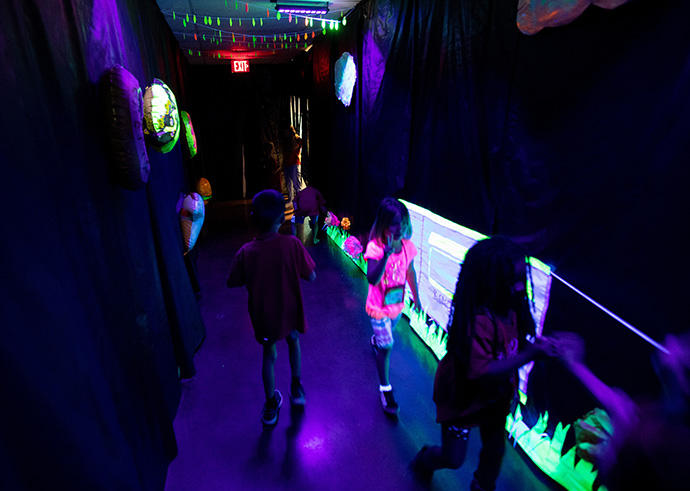 Children make their way through a hallway illuminated with black light during vacation Bible school at Connell Memorial United Methodist Church. The church returned to in-person VBS this year after going virtual in 2020 during the COVID-19 pandemic. Photo by Mike DuBose, UM News.
At Scioto Ridge United Methodist Church in Hilliard, Ohio, this year's vacation Bible school is in-person only, with three separate sessions of smaller groups to allow for social distancing.

"It was a hard decision, but we knew our limitations," said Kari Blackburn, director of children's ministry. "We are altering our plans in other ways to diminish risk, such as eliminating the beloved snack rotation and shortening the hours.

"We are thrilled to share Jesus with whomever can join us. And for those who aren't comfortable returning yet, we look forward to having their kids online each Sunday to view our online content."

For Blackburn, the biggest lessons from 2020 VBS were flexibility and innovation.

"The message and goal remain the same," she said, "but COVID-19 has given us permission to change things. We are rethinking almost every aspect to make sure it works for now."

In Columbus, the Rev. Anna Guillozet is senior pastor at Linworth United Methodist Church. The pre-pandemic worshipping congregation averaged about 350 per week.

Beginning in March 2020, Linworth went online/virtual for worship and recently returned to in-person services with safety protocols while continuing to livestream worship.

As Linworth staff members began planning this year's vacation Bible school, they considered several ideas.

"With the vaccination rollout," Guillozet said, "we landed on family VBS in the evening, while our day care/camp kids experience VBS with their classes." The congregation has traditionally used VBS kits with alterations for program size and participant/volunteer needs.
Ben Frey (right, rear) conducts a science experiment for children during vacation Bible school at Connell Memorial United Methodist Church. Photo by Mike DuBose, UM News.
"We are working to balance being invitational with maintaining safety, especially since children under 12 are still not able to be vaccinated," she said.

"In 2020, virtual VBS included families learning together in their homes," Guillozet added. "How can we continue that while fostering safe community gatherings? This is what we hope to create this year: VBS where parents and children learn together."

Meeting the community at various comfort levels is essential to the 2,700-member Manchester United Methodist Church in West St. Louis County, Missouri. Recently, the congregation returned to in-person services, while continuing to livestream Saturday and Sunday worship through Facebook Live.

"Families differ on level of comfort in terms of meeting in-person," said Chessey Brenton, director of children and family ministries. For vacation Bible school 2021, families can choose from virtual and in-person options. "In fact," she added, "we have a family participating from Texas in our virtual VBS, and all supplies will be mailed to them prior to our week together."

In-person vacation Bible school (July 11-15) will primarily be outdoors. The virtual option provides families with take-home supplies, videos posted daily and an online Facebook event for ongoing fellowship throughout the week.

Since the church had already bought "Focus" VBS curriculum before the pandemic, Brenton said, "we decided to save this theme for 2021."

Intergenerational worship is the goal of this year's vacation Bible school at First United Methodist Church in Jacksonville, Arkansas. The congregation is combining VBS and Sunday morning worship.

"The desire to be together as a church family was driving a lot of this," the Rev. Nathan Kilbourne, senior pastor, told The Arkansas United Methodist.

Each day of VBS operates as it traditionally would during a weeklong session, explained Stephanie Dunn, Christian education coordinator.

"We are doing the opening assembly and closing assembly along with Rev. Nate's preaching around the Bible story that's told each day, and we're also doing the music portion during worship," she said.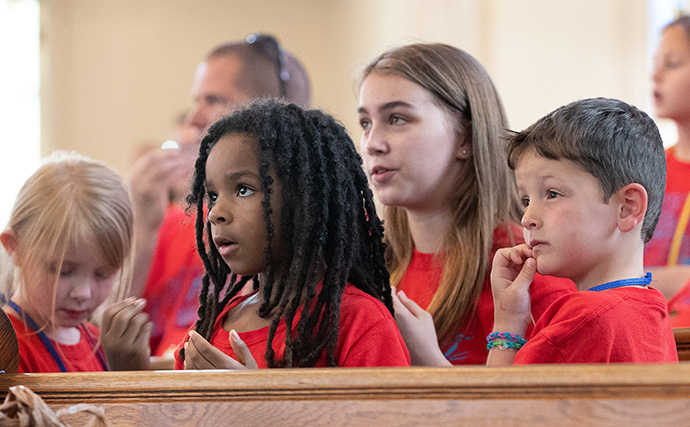 Children listen to a lesson during vacation Bible school at Connell Memorial United Methodist Church. From left are: Abby Hartmann, Emma Furtado, Emme Sinclair Krueger and Barrett Christian. Photo by Mike DuBose, UM News.
The sanctuary is festooned with the "To Mars and Beyond" theme, and after worship, participants move to the gym for games, crafts and snacks.

Dunn is excited that children and adults are experiencing VBS as a church family. "It's important that the kids see the rest of the church taking on a program that they loved so well and enjoying it just as much as they do," she said.

By doing everything together, Kilbourne said, "we're hoping to bridge those generational gaps to help us see the family that we have in God."

When the pandemic began, curriculum publishers scrambled to create resources that would work for online vacation Bible school classes.

"Cokesbury quickly pivoted and offered flexible adaptations to assist churches in holding completely virtual or hybrid VBS options," said Marjorie M. Pon, associate publisher and editor of church school publications at The United Methodist Publishing House.

Virtual offerings included "At-Home VBS," with opening and closing assembly, music videos and motion instruction, craft and science demonstrations, a short Bible lesson and American Sign Language demos. All were offered at no additional charge and in a variety of formats.

"We also had Facebook live events to guide churches in making the shift and to answer questions about adaptation and the resources," Pon said.

She is especially excited about the "Discovery on Adventure Island" curriculum.

"We are providing the same virtual, hybrid and in-person options as we did in 2020," she said. This year, she added, "churches are opening and engaging, but they are also uncertain about number of children, number of volunteers and so on. Many are using last year's program or resource sharing and passing on materials once their programs are complete."

Connell Memorial United Methodist Church in Goodlettsville, Tennessee, has a longstanding relationship with Cokesbury. In early June, the church served as a test site for a new VBS curriculum, "Food Truck Party," which Cokesbury officially launched on June 30.

In early spring 2021, Connell Memorial resumed in-person worship, with streamed services continuing on Facebook, YouTube and the church website. Many of the congregation's Sunday school classes use a hybrid format.

The congregation was ready and eager to return to in-person vacation Bible school in June. While the 2020 online VBS drew 20 to 30 participants, 67 registered for this year's in-person program.

The "Food Truck Party" curriculum proved popular, said the Rev. Sarah McWhirt-Toler, pastor of community life.

"Children and adults alike enjoyed the lens of looking at miracle and feeding stories in the Bible," she said.

"One of the greatest strengths of our community," she added, "is meeting children where they are, be it online during the pandemic or in person, supporting a variety of learning needs."

Barbara Dunlap-Berg is a freelance writer in Carbondale, Illinois.