Farming Ministry Helps Women Prepare for Retirement
Farming Ministry Helps Women Prepare for Retirement
7/1/2022
By Chenayi Kumuterera | HARARE, Zimbabwe (UM News)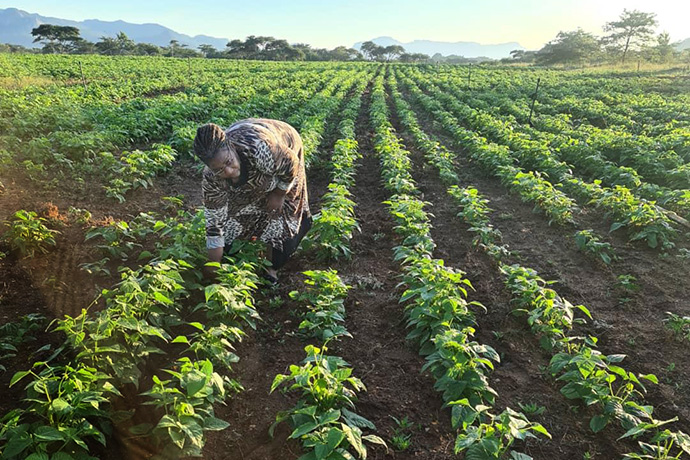 Willa Bonyongwe tends beans in her plot at the Agriculture Research Trust farm near Harare, Zimbabwe. The United Methodist ministry focuses on life skills, while encouraging, educating and empowering women to help their families survive. Photo by Chenayi Kumuterera, UM News.
---
Key Points:
Members of Harare's Inner City Circuit United Methodist Church visited the church-related Agriculture Research Trust farm for training.
The ministry focuses on life skills, while encouraging, educating and empowering women to help their families survive.
Church leaders hope the training encourages women to start thinking about retirement earlier.
---
More than 60 members of Harare's Inner City Circuit United Methodist Church gathered recently at the Agriculture Research Trust farm to gain new skills that will help them prepare for retirement.
The church-related farming ministry focuses on life skills, while encouraging, educating and empowering women to help their families survive.
The church's agriculture team joined with a group from the World Federation of Methodist and Uniting Church Women to teach the participants farming skills.
Tafadzwa Ndoro, World Federation chair for Harare Inner City, said key concerns for the organization are hunger, poverty, universal primary education, gender equality, women's empowerment and climate change.
"At our circuit, we chose to address self-sustenance in retirement to encourage women to start thinking about retirement," Ndoro said. "The point being, it's too late to work toward retirement when one is already old."
The group visited the Agricultural Research Trust farm in March.
Ndoro noted that women are most vulnerable when they cannot sustain their families.
"We used farming as one of the projects that women can start investing in now, live on and be ready to raise the much-needed resources in old age," she said. "We linked this to the virtuous woman who does not tire (of) working for her family. We were particularly interested in farming as we wanted to address several goals with one stone."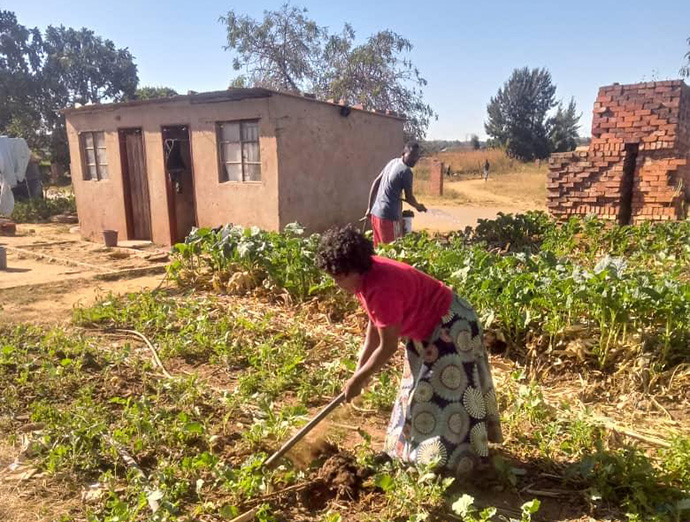 Phildah Matemarunda, a widow, prepares her garden for planting. She is part of a United Methodist agricultural program that educates and encourages women as they learn new skills to help their families survive. Photo by Chenayi Kumuterera, UM News.
Willa Bonyongwe is a graduate of the agriculture program who formerly worked in banking.
After being reassigned to a heavy fund-management workload, she decided to look seriously at farming. She said she resisted at first, but her husband motivated her to try it.
"Since 2007," she said, "I have been growing varieties of crops such as maize, soya, sugar beans and wheat and (raising) poultry. Now I am changing operations into a greenhouse, growing blueberries and applying the new farming techniques I learned."
Of the church group's recent visit to the ART farm, she said she expected that the majority will pursue farming and said she hopes they are able to take it a step further to sell crops locally at markets and for export.
Esther Razo chairs women's concerns at the Inner City Circuit. She also has high hopes for graduates of the program.
"I strongly believe women can move out of poverty and sustain their families, prepare themselves for their retirement and help themselves keep strong and healthy," she said. "I have seen families that have sustained themselves from farming. I have seen farmers send their children to school from farming in general and, specifically, market gardening.
"Hardworking women can feed their children and raise them from farming produce. Farm products can be varied, and women do not necessarily need huge pieces of land," she said.
Razo has been rotating Irish and sweet potatoes, bell peppers, cabbages, tomatoes, onions, beetroot and sugar beans on about two acres.
"I have managed to supply some of my produce in local supermarkets, making a reasonable profit," she said. She said she has ventured into chicken farming and plans to use manure from the chickens in the garden.
"I plan to scale up and do even more during retirement. I don't do the physical work myself. I do the planning and logistics."
She now employ three workers, one full-time and two part-time.
Johnson Muzarurwi, secretary of the Inner City Circuit United Methodist's agriculture committee and an Africa University graduate with bachelor's degrees in agriculture and natural resources, said the upcoming farmers have learned practical skills at the farm.
Through integrated training by church agriculturists, agronomists and other experts based at Charter Seeds Starke Aryes, he said, they are able to use modern farming technologies and agricultural systems.
The goals, he explained, are to improve crop production, management practices, household food security and nutrition among church members.
Joshua Zhungu, Harare Inner City member and a part-time farmer, said the ART farm experience was well appreciated.
"My experience has been turbulent. Not being directly on the ground, you don't get the desired output. Most employees don't work when they are not being watched. My biggest takeaway is that one needs to identify a market before starting to farm and to consider quality expectations for the market one intends to supply."
Divara Phiri, ART charter seeds agronomist, said, "Church members need to implement the knowledge that I gave them into practical. Correct land preparation is an essential key to seeds of success."
Hazel Karuma, chair of circuit connectional ministries, said the church members at Harare Inner City who participated in the program are "amazing."
"We expect great harvest proceeds as their thanksgiving to the house of the Lord."
The Rev. Phanuel Razo, pastor in charge, agreed that visiting the ART farm was a wonderful, eye-opening experience.
Kumuterera is a communicator in Zimbabwe.
News media contact: Julie Dwyer