Handbook Aims to Reach Unvaccinated With Compassion
Handbook Aims to Reach Unvaccinated With Compassion
9/29/2021

By Kathy L. Gilbert​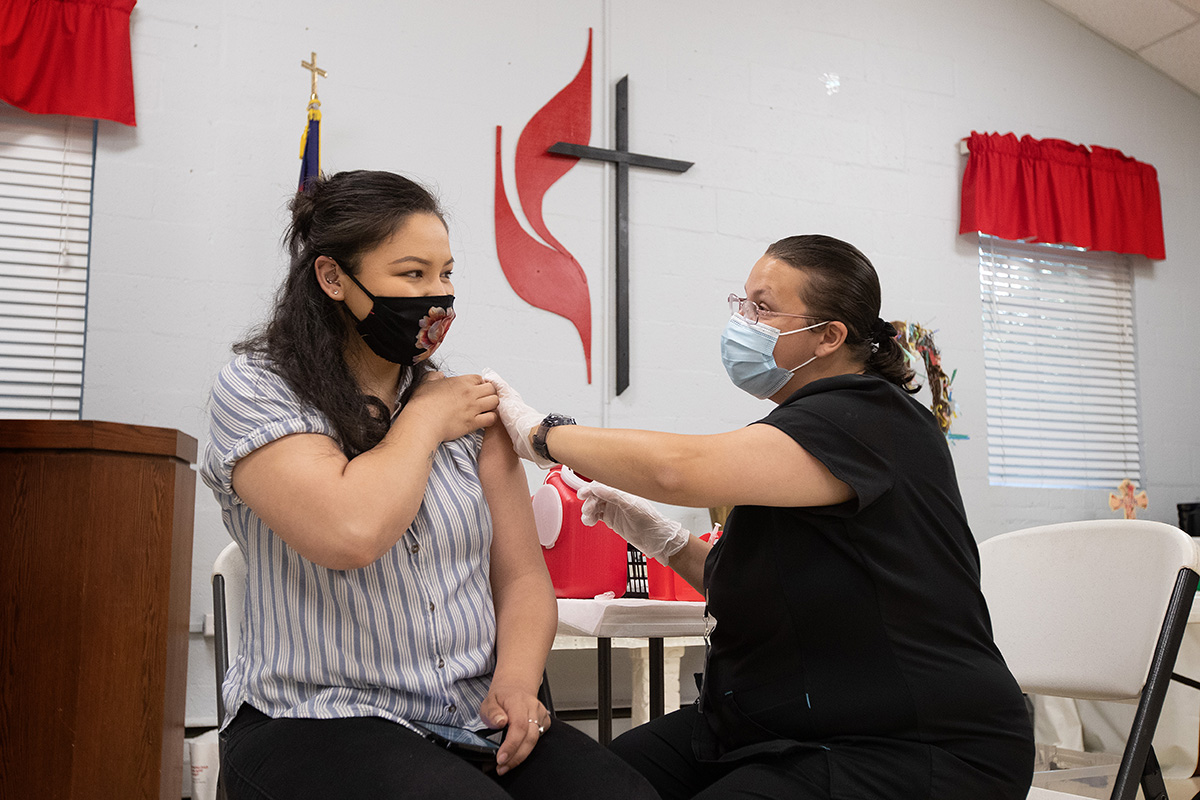 ---
Key points:

• Mobilize Vaccine Turnout! is a 40-page guide to help congregations reach out to those who are reluctant to get vaccinated against COVID-19.

• Congregations are uniquely poised to help in areas that are under-vaccinated or socially vulnerable.

• Misinformation or lack of access are factors for many unvaccinated people.
---
Whether COVID-19 vaccinations are an answer to prayer or a harmful evil has led to distrust and anger while the death toll continues to rise.

The push to get every person vaccinated against COVID-19 has opened wide divisions that can't be healed without compassion, said the Rev. Dana Horrell, who has written a handbook to help congregations reach out to the unvaccinated.

"We have been told to love your neighbor and the way we do it is by listening. We don't do it by telling people what to do," he said in an interview about his handbook, Mobilize Vaccine Turnout!

Horrell, pastor at Cooperstown United Methodist Church in New York, said the idea for the handbook came to him after a conversation with a 95-year-old member of his church who told him she had not gotten the vaccine.

"She said her daughter didn't believe in the vaccine and she depended on her daughter for a ride," he said. Horrell then talked to the woman's son and offered to help.

"I just offered a nudge and now all three family members are vaccinated."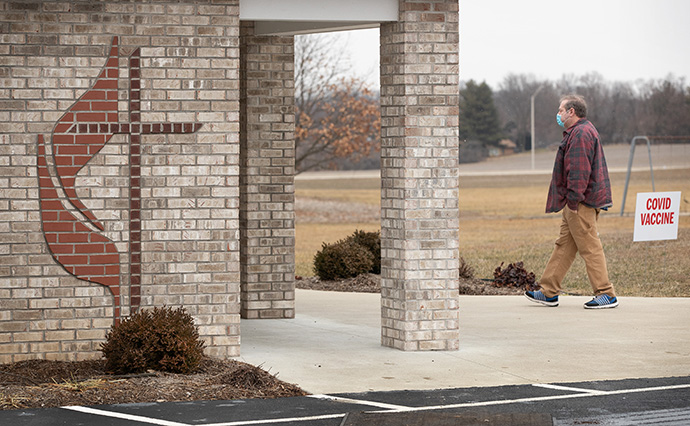 Community United Methodist Church in Vincennes, Ind., hosted a COVID-19 vaccination clinic in its multipurpose center in January. Mobilize Vaccine Turnout! is a 40-page guide started by a United Methodist pastor to help congregations reach out to the unvaccinated. File photo by Mike DuBose, UM News.
Misinformation or lack of access are factors for many unvaccinated people. Horrell pointed out that something as simple as offering a ride or being available to talk can sometimes be enough.

The handbook contains resources for setting up conversations about the vaccine when people don't agree. Not every unvaccinated person is anti-vaccine. Many don't have access, he said.

Some communities are "socially vulnerable," according The U.S. Centers for Disease Control. Factors include poverty, lack of vehicle access and crowded housing and racial health disparities.

While anger at the unvaccinated is reaching a boiling point after a summer surge in COVID-19 cases due to the delta variant, the handbook advocates compassion and a willingness to listen, Horrell said.
"Rev. Horrell has a talent for how to draw the largest circle to include as many people as possible. Having an overview resource for vaccination efforts is so important," said Cheryl Lasher, director of RISSE, Refugee and Immigrant Support Services of Emmaus. The development center works with people from all over the world, especially those from refugee camps.
RISSE was started by Emmaus United Methodist Church in Albany, New York, in 2017 and is a United Methodist Advance project.
"We have to meet people on their own ground. Having large families is hugely important to various cultures, so concerns about (the vaccine) affecting fertility is a big fear," she said. "The peer-to-peer model is very important for our clients. Educating with the pros and cons of vaccines along with how to protect their children are also high priority."
Horrell said pastors and church leaders are trusted people in communities.
"The pandemic really reminds us that everybody counts," he said. In the handbook, he sets a goal of getting 90 to 100% vaccinated.
"Let's be ambitious and get everyone vaccinated. I don't see why we can't be bold and do that. I believe churches have a role to play. That's why I am a parish minister."
---
Learn more
Mobilize Vaccine Turnout! is available as a downloadable PDF at www.vaccineturnout.com. It is published by The Parish Paper, a monthly newsletter serving rural and urban congregations in many of the states hardest hit by COVID-19.
For webinars on vaccine access or hesitancy, contact the Rev. Dana Horrell at danahorrell@theparishpaper.com.

Kathy L. Gilbert is a freelance writer in Nashville, Tenn.