Hurricane Recovery Begins in Florida
Hurricane Recovery Begins in Florida
10/3/2022
By Jim Patterson | UM News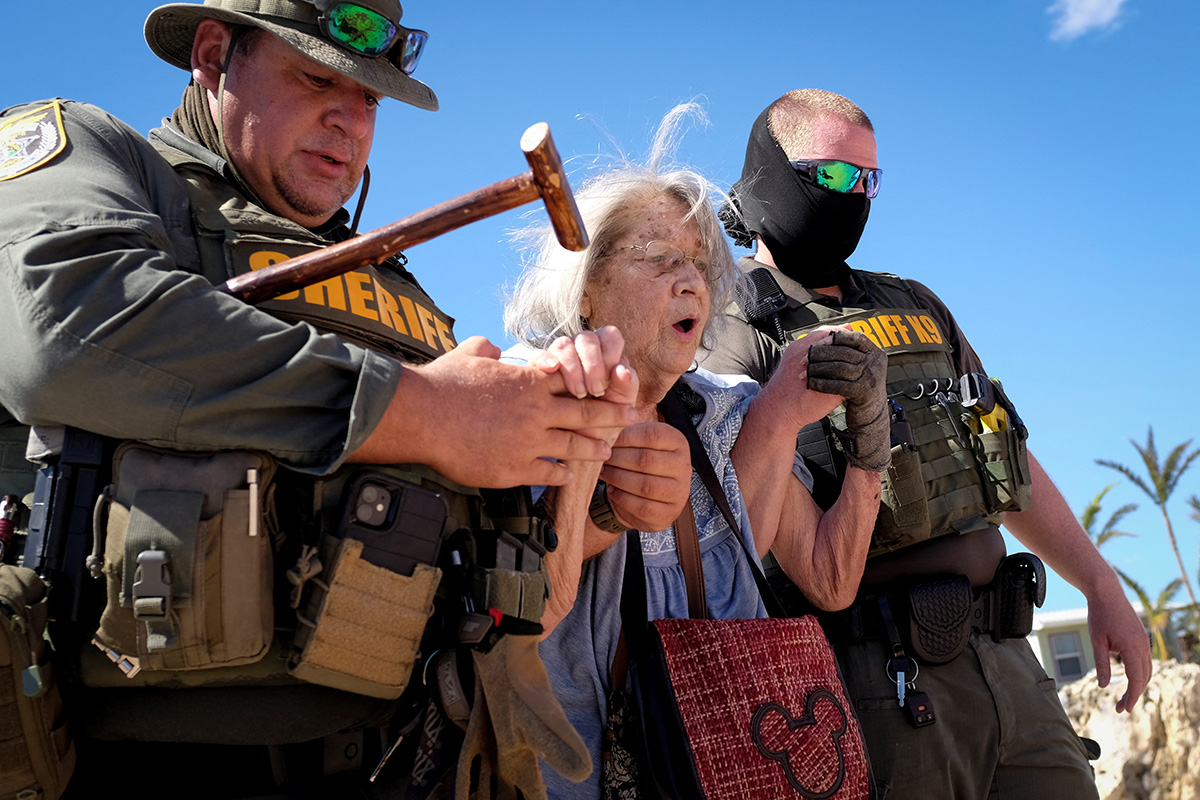 ---
Key points:
At least 88 deaths and 1,600 rescues are documented in Florida after Hurricane Ian wreaked havoc last week.
Potential volunteers wishing to help are being asked to stay put until officials can get organized.
Bishop Ken Carter said the Holy Spirit will help rebuild the communities that are suffering.
---
United Methodists responded to the devastation wrought by Hurricane Ian with typical compassion for the survivors and determination to respond effectively.
"This is the time when connection really matters," Bishop Ken Carter of the Florida and Western North Carolina conferences said in a video as the storm made landfall.
"We will make it through this, and we look forward to rebuilding our lives and our communities together through the power of the Holy Spirit."
Ian brought 150-mph winds to Florida on Sept. 28, and there have been at least 88 storm-related deaths in Florida recorded so far, reported CNN. Four Hurricane Ian deaths have been documented in North Carolina and three in Cuba, according to The Associated Press.
Gov. Ron DeSantis of Florida said that more than 1,600 rescues have been accomplished since the storm. Those numbers are expected to rise as floodwaters recede and people and buildings become accessible.
"The amount of damage and devastation across southwest Florida and even across central Florida, I don't think anyone was fully prepared," said the Rev. Samantha Aupperlee of Beaches United Methodist Church in Fort Myers Beach. She grew up in Florida and has braved hurricanes before.
"The few people I know that stayed on the island during the storm regret that decision," she said.
At least 150 United Methodist churches in Florida have been damaged to varying extents, said Trish Warren, disaster response coordinator in the Florida Conference. "Now it's just reaching out until they have cell service or whatever to get back to us," Warren said.
The hurricane moved on to South Carolina, but weakened to a post-tropical storm the evening of Sept. 30, reported CBS News. It still had enough power in that state to flood streets and destroy some piers.
The South West District of the Florida Conference was the hardest hit. That includes Fort Myers Beach, Fort Myers, Bradenton, Venice, Naples, Palmetto, Bonita Springs, Arcadia and Sarasota.
The path of the hurricane allowed some churches in the district to avoid damage, while others, particularly on the southwest coast, weren't so lucky.
The Rev. Debbie Allen, superintendent of the South West District, said her team spent Sept. 29 just trying to get a hold of all the district's pastors and make sure that everybody was safe. She also hoped to get some early damage reports.
"Fort Myers is obviously one of the worst affected areas," she said.
"In Venice, Nokomis and Sarasota, there is lots and lots of tree damage, lots and lots of wind damage. I'm getting ready to head down … to Englewood, Port Charlotte and Gulf Cove. They were more badly affected. I know some of those churches have structural damage."
The UMC Disaster Recovery Ministry in Florida was working with the state and other agencies to respond.
Grants of $10,000 were quickly approved for Florida and South Carolina by the United Methodist Committee on Relief, said Susan Clark, chief communications officer for the United Methodist Board of Global Ministries.
Bishop Carter and other conference leaders were planning to visit some of the impacted churches. Other helpers are being advised to wait until things are more organized.
"After a storm is over, people are ready to go and ready to act," Aupperlee said. "However, this storm, because of the amount of damage and the amount of calls I've gotten of people wanting to help, right now, I just say we need to wait."
Aupperlee was waiting for permission to return, along with her mother, who also is a United Methodist pastor. The Rev. Patti Aupperlee leads First United Methodist Church of Homosassa, Florida.

"She says she's coming down in two roles, one as a mom and one as a person on the disaster team for Florida," the Rev. Samantha Aupperlee said. A call center has been set up at 855-228-3862 for people needing assistance or interested in volunteering or donating useful items. Email requests for assistance can be directed to jointherecovery@flumc.org.
"Especially in the Fort Myers area, I know that they're short on resources, even for the emergency personnel that are down there," Allen said. "So the best things that folks can do right now would be to donate to UMCOR or the Florida Conference's hurricane fund."
The Rev. Samantha Aupperlee said Hurricane Ian has brought out conflicting emotions for her.
"I'm full of hope and encouragement because of the people wanting to come together and help," she said. "But I'm concerned that I haven't heard from all of my congregation or others in the community.
"I have to remind myself not to be anxious for what's ahead and focus on today. It can seem very overwhelming if you think too far ahead. It's just one day, one step at a time right now."
Despite a warm bed waiting for him at home, Pastor Sam Rodriguez has been sleeping on the floor of his church in solidarity with homeless people staying there after Hurricane Ian spread chaos in the Florida Conference.
"If Jesus could die on the cross for these men, then I could be inconvenienced by a night or two on the floor for them," said Rodriguez, pastor of Cleveland United Methodist Church in Punta Gorda, Florida.
Rodriguez also was giving out food to all comers.
"We don't have electricity, we have four freezers full of food, and anyone that comes by, we just give it out," he said "It's God's house. It's his food anyway, so why would we let it go to waste? "I'm excited about being the hands and feet of Jesus."
How to help
Give to the United Methodist Committee on Relief's U.S. Disaster Response and Recovery through Advance #901670.
Donations also can be made directly to the Florida Conference's Hurricane Ian Response and Recovery fund.
Patterson is a UM News reporter in Nashville, Tennessee.