United Methodists Begin Idalia Recovery
United Methodists Begin Idalia Recovery
9/1/2023
By Heather Hahn | UM News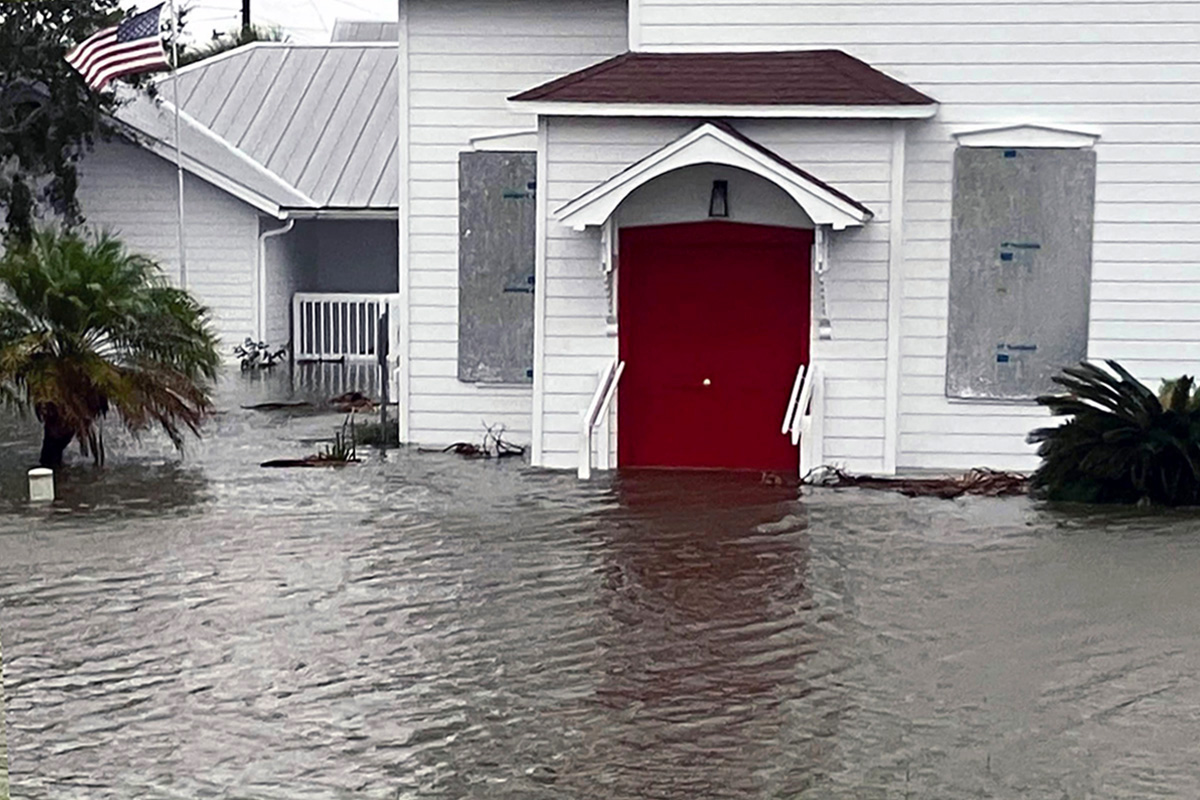 ---
Key points:
United Methodists across the U.S. Southeast were assessing the damage and responding to immediate needs a day after Hurricane Idalia made landfall.
Church members in nearby conferences were also quick to offer a helping hand.
The church's disaster responders are hoping United Methodists' involvement in the long recovery ahead can bear witness to Christ's love.
---
The day after Idalia slammed the Gulf Coast as a Category 3 hurricane, Florida Conference leaders surveyed the results of the storm's destructive power.

But they also marveled at the United Methodist connection's power to heal.

"We have been on the road for just a couple of hours to visit impacted areas," Florida Conference Bishop Tom Berlin said. "And during that time, three annual conferences have contacted our disaster-recovery personnel with offers of help."

The fellow United Methodists from the neighboring church regions said they stood ready to offer kits for flood cleanup, various kinds of equipment and trained early response teams to remove debris and help with other immediate needs.

While Idalia was still making its approach,

the United Methodist Committee on Relief

— the denomination's relief arm — was already processing a $10,000 solidarity grant for the Florida Conference's emergency supplies.

UMCOR is helping to coordinate the deployment of solar-powered trailers to bring needed electricity to areas without power and working with conferences to deploy early response teams.

Both UMCOR and conference leaders plan to be part of the recovery for the long haul. That process is just beginning for many in Idalia's path.

The monster storm roared ashore as the strongest hurricane to pound Florida's Big Bend region, where the panhandle and peninsula intersect, in more than 100 years. Idalia then cut a ferocious path across Florida, Georgia and South Carolina even as it weakened to a tropical storm.

Idalia flooded towns, destroyed homes, toppled trees, snapped power lines and left widespread outages before drenching North Carolina and making its way to the Atlantic. Local authorities have said the storm is responsible for at least three deaths — two in Florida and one in Georgia.

This is the second major hurricane to batter Florida in less than a year, and many people were still recovering from the wreckage of last September's Hurricane Ian.

Trish Warren, the Florida Conference's disaster response coordinator, said that after being pummeled by Ian last year, Pine Island was now experiencing flooding from Idalia.

"Some of the clients that we've been working with for long-term recovery now need response work again, which has just been very traumatic for them," Warren said. "So, we're having to provide some social and emotional care also."

Cedar Key United Methodist Church, which draws a number of snow birds each winter and held an activity-packed vacation Bible school this summer, is one of the many structures flooded by Hurricane Idalia. The island of Cedar Key is about four miles off the Florida mainland in the Gulf of Mexico. Photo courtesy of the Florida Conference.
As of Aug. 31, both state and church officials were still assessing the full scope of the damage in Florida. The conference knew that United Methodist churches in Cedar Key and Steinhatchee, near where Idalia made landfall, had extensive damage. At least seven other churches in the conference's North West District also had at least some damage, said the Rev. Clarke Campbell-Evans, the district superintendent.

A pastor near St. Petersburg also saw his home completely flooded by the storm. Berlin said the pastor's district and church were now working to ensure the pastor and his family will be housed.

Cedar Key, located about four miles off the Florida mainland, saw its entire downtown and many of its homes flooded by a record storm surge that left household goods and other debris strewn through its streets and beaches.

Cedar Key United Methodist Church, which hosted a bustling vacation Bible school earlier this summer, was now dealing with flooding throughout its building.

"In all the storms we've had, never, to our knowledge, has water entered that church," said the Rev. Robin Jocelyn, pastor of the Cedar Key congregation and Ellzey United Methodist Church in Otter Creek on the mainland. "Our main mission at this point is to get the carpeting up and to get all the linoleum up and start the drying process as soon as possible."

Many of the church's members are dealing with flooding in their own homes, but some were unaffected and can help with the cleanup. Still, because of safety concerns, travel to the island on Aug. 31 remained restricted. Power was irregular, and no one on the island had running water.

The South Georgia Conference, however, is already preparing to welcome early response teams to hard-hit Lowndes County and surrounding areas. Community United Methodist Church in Nashville, Georgia, is the only conference church that has reported any damage. Still, the early response teams will have plenty of work to do in the coming days — clearing downed trees and other debris. The neighboring North Georgia Conference had already lined up three teams to help the South Georgia teams.

Luis Morales, who directs the conference's disaster response, said he had already seen God at work in the United Methodist storm response.

The closest and most extensive lodging for incoming teams is Camp Tygart, which has working showers and soft beds but, at this point, no electricity.

"I thought, at least we'll have a roof over our heads and a shower," said Morales, who is also a registered nurse. But then, he said, he heard from Angela Overstreet of UMCOR with an offer of two solar-powered trailers to provide electricity at the camp.

He said he expects to be able to get to work early next week. "The connection of The United Methodist Church is amazing," he said.

In South Carolina, early response leaders were dealing with a near miss at one of the conference's churches. The night of the storm, the Rev. John Elmore was checking Holly Hills United Methodist Church for flooding when a massive tree toppled just feet from the church and his parsonage.

On Aug. 31, the Holly Hill pastor was working with Billy Robinson, the conference's coordinator of early response teams, to take a chainsaw to the tree and clear it from blocking the church's entrance. He and Elmore, who is also a leader of an early response team, chopped up the tree so that the city can remove it with a tractor.

The church also had some minor flood damage, but Elmore expected the church to be able to hold services on Sunday as scheduled.

He said churches need to know their city officials and local emergency management agencies to be able to respond when disaster strikes.

"You build relationships that might not see kingdom impact today, but the hope is those relationships have kingdom impact later," Elmore said. "When you do what you're supposed to, the Gospel goes with you."

The Rev. John Elmore, pastor of Holly Hill United Methodist Church in Holly Hill, S.C., works with early response team members to chop up a tree that fell outside the church and his parsonage as Idalia blew through the community also bringing flooding in its wake. Elmore is also the leader of an early response team that is part of the South Carolina Conference Disaster Response Ministry. Photo courtesy of the South Carolina Conference.
At this point, United Methodist leaders are only deploying trained early response teams to help with immediate relief. In the months ahead, conferences will likely call on Volunteers in Mission teams to help with the rebuilding process.

Members of the Alabama-West Florida Conference, which borders two of the affected conferences, are among those ready to help when asked.

"Our hearts and prayers are with those who are beginning the recovery and rebuilding process today," said the Rev. Chris Ackerman, the conference's director of disaster response.

"The Alabama-West Florida Conference knows all too well the pain and heartache in the aftermath of destructive storms. We will wait to hear from those in the Southeast coordinating efforts to help those in need and will deploy our response teams where needed."

Prayers are also needed. Berlin asked United Methodists to pray for the people dealing with the storm's wreckage and those who endured Hurricane Ian last year and now must pick up the pieces again.

"We pray for our United Methodist witness as people donate supplies, donate material resources or volunteer time," the bishop said. "We pray that it might encourage people in this area and be a witness for the love of Christ from our church."

Hahn is assistant news editor for UM News.